Set All Ray Guns To Incinerate!
Dissolve
is anything but ordinary, eschewing trends and sticking to what the band loves: heavy riffs and pissed-off fury. Elements of death-metal, black-metal, hardcore, stoner-rock, grind, punk and progressive-metal unite to form a beautifully brutal whole that is the
Dissolve
sound. 
From 1993-2000
Dissolve
was one of the most raved about and notorious hardcore metal bands in the New York tri-state area. Originally formed by brothers Jamie and John Mazurowski with vocalist Paul Thorstenson, the group went through a number of line-up tweaks during the recording and release of a handful of demos, eps, and their two full-length albums,
Dismantle
(recorded in 1996) and
Caveman of the Future
(recorded in 2000). The core members of the band have been close friends for most of their lives and represent everything good about camaraderie and democracy in music. 
When you see
Dissolve
live, there is no doubt you are witnessing something of significance. The band has played hundreds of shows over the years, including opening slots for personal heroes
Obituary
,
Napalm Death
,
Carcass
,
Meshuggah
and many, many more. The incredibly tight and powerful instrumentation lays the foundation for the absolutely out-of-his-head performance style of vocalist Paul Thorstenson. As a YouTube search for classic live footage will attest, Thorstenson performs with the same amount of reckless abandon in front of a packed house as he does for 30 metal-heads at a local dive bar. No space is too sacred or crowd too obscure to stop Thorstenson and the rest of
Dissolve
from putting on a show that leaves nothing on the field of battle. It's no wonder that the band has not only won over audiences, but also established long lasting friendships and mutual admiration with a number of well-known metal peers including
Hatebreed
,
Killswitch
Engage
, and
Shadows Fall
.
Though the members of the band moved on to focus on endeavors both inside and outside of the artistic world after their initial run,
Dissolve
has never truly gone away. The band has periodically gotten together throughout the 2000s to jam, open for friends in touring bands that have asked for regional support and perform at the
New England Metal & Hardcore Festival
. Most importantly,
Dissolve
reformed to support the long delayed release of
Caveman of the Future
and played a sold-out 20th anniversary hometown show at the historic
Chance Theatre
in Poughkeepsie, NY. Reinvigorated by the response from both old fans and new converts,
Dissolve
 reformed to record and release material for a new generation of metal heads. The current line-up of Paul Thorstenson (vocals), Chuck Salamone (bass), Will Dahl (guitar), Jamie Mazurowski (guitar) and Todd Gukelberger (drums) has the band at its creative zenith and in the middle of a writing tangent that shows no sign of slowing down.
2017 ushered in
Dissolve
's first taste of new music with the 300 piece limited-edition
Sasquatch
7". 
In 2020, 
Dissolve
 released a 6-track EP entitled, "Until The Drugs Wear Off". This was the first recording to feature Will Dahl on guitar after replacing original member, John Mazurowski.
The band continues to create and will soon be dropping a limited run cassette that includes an epic-length brand new song as well as a fresh recording of a classic track from the back catalogue, "Sunshine".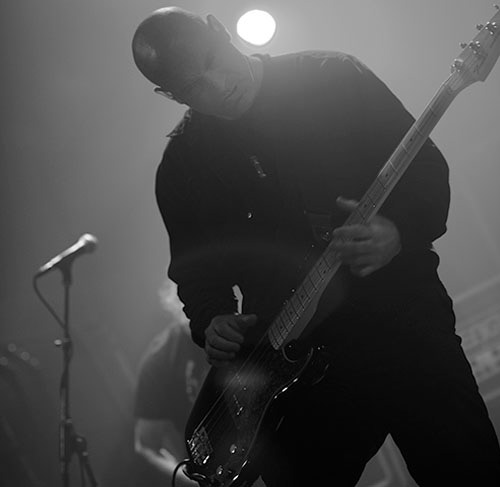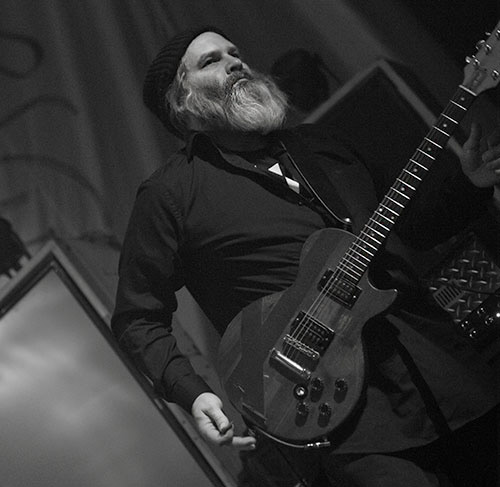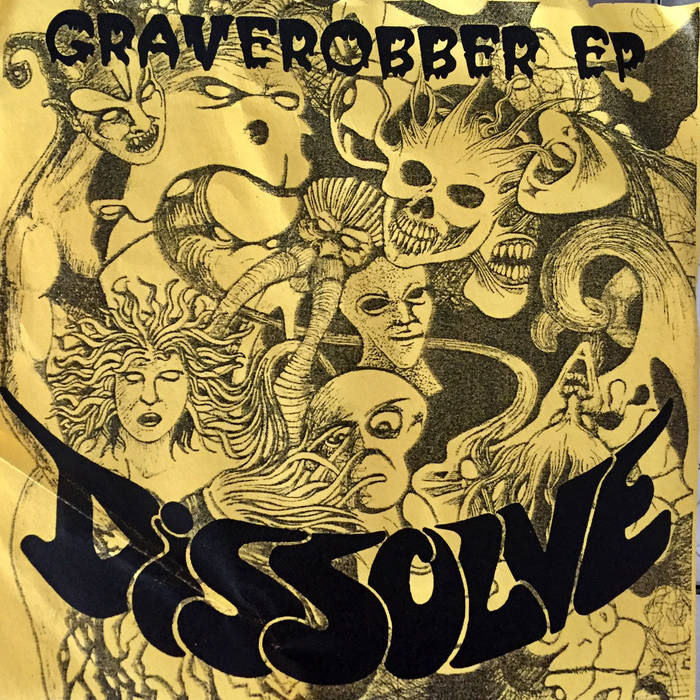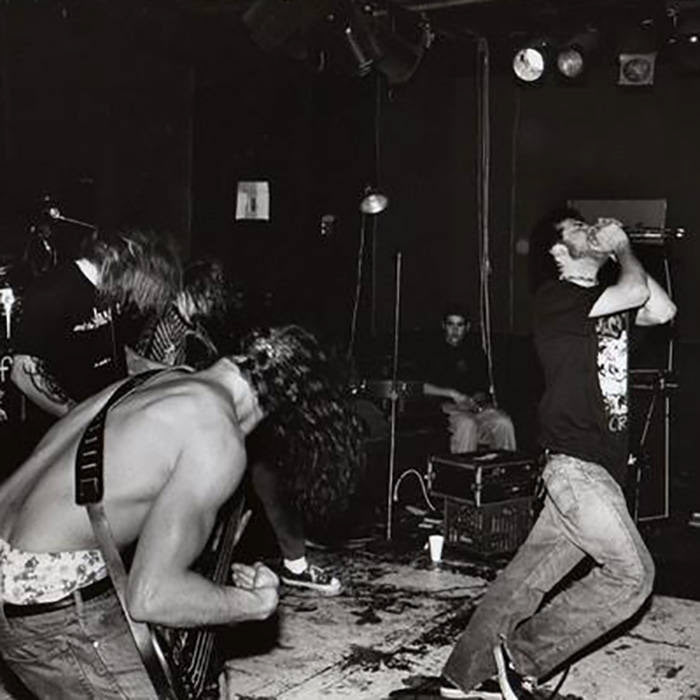 "Dissolve were a band that was so far ahead of their time. No one was doing down tuned, sludgy riffs over driving grooves like these dudes were. There are riffs on their demo from decades ago that are still heavier than anything I heave heard to date. They never cared about what was hip or trendy. They just wanted to make music that would pummel you into dust. So glad this rock and roll juggernaut is still rolling and crushing everything in their path."
Brian Fair

- Lead Singer, 

Shadows Fall/Overcast
"Dissolve is a band that defies classification and genre. I have always loved the riffs and perfect chaos of the drums paired with the precision of the low end bass. As a vocalist I've always been a fan of Paul's vicious and poetic approach to his voice and lyrics. Easily one of the most eccentric and unpredictable front men to come out of the north eastern hardcore and metal scene. They are masters of their craft and a band that for too long hasn't been given their due. Underrated and a sheer force to be reckoned with. Dissolve will tear your face off and then fold it into an abstract sculpture and hand it back to you with a eerie grin from ear to ear."
Jesse Leach

- Lead Singer, 

Killswitch Engage
"Dissolve will smash your face in with brutality. If you like the idea of glass shards shredding your eardrums apart, this is the band for you."
Mike D'Antonio 

- Bass,

 Killswitch Engage
"When I first saw Dissolve on stage, they were juxtaposing an intellectual and maniacal attitude that screamed true cerebral and outraged rebellion. The music was executed amazingly too with raw emotion and technical prowess. I was an immediate fan and to this day still get pumped by how they create the drive in their rhythmic perspective. Heavy metal has to drive rhythmically. Dissolve does it with a unique flair that has a perfect blend of quirky and crushing."
Ken Schalk

- Drums,

 Candiria
"You can't come from Poughkeepsie, NY and not know the musical force that is Dissolve. They have been a solid presence in the hardcore scene since the early 90's and they will always be a blitz to the senses when they bring the heavy."
Matt Byrne

- Drums, 

Hatebreed
Human Howitzer (Sasquatch EP 2017)
Leathermask Enthusiast (fragment-from Sasquatch EP 2017)
Redneck Decimator (rehearsal for next release)
Black Bolt / Ray Guns (rehearsal for next release)